February 24, 2015
2015 Mazda CX-9 : everything you need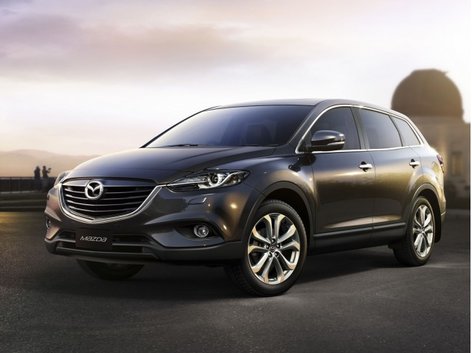 The 2015 Mazda CX-9 does not have an easy life. Indeed, it happens to be a seven-passenger sport utility vehicle that must not only sit at the top of the Mazda range, but also replace the very popular Mazda CX-7 that left a couple of years ago. But not to worry, the Mazda CX-9 is perfectly up to the task as it offers plenty of interior space, a ton of options, a comfortable and quiet driving behavior, a powerful engine, and strong handling.
Offering space for up to seven passengers, the 2015 Mazda CX-9 is the most spacious vehicle in the Mazda lineup. Designed according to the KODO design philosophy, the Mazda CX-9 is also quite elegant with its flowing lines that camouflage the vehicle's size. Offering more than 4,000 liters of interior space for the passengers, the CX-9 is the perfect vehicle to take a long family trip. It offers plenty of room for your elbows, knees, head and shoulders regardless of whether you are sitting in front, in the back, or in the middle.
Behind the passengers, the CX-9 offers 487 liters of cargo space which can climb to more than 2,800 liters when the seats are folded. On that note, it is worth mentioning that you can fold either the middle or the second row, or both if need be. Also, each row can be separated in order to achieve the perfect balance between space for passengers and for cargo.
Behind the wheel, the 2015 Mazda CX-9 feels solid and poised. We like the elevated seating position which provides excellent visibility for the driver. The seats offer plenty of lateral support as well as a ton of comfyness which makes driving the CX-9 over long periods of time a breeze. Moreover, the CX-9 is quite silent on the road and also very stable over bumps and potholes. Even the engine which will be described further is quiet.
Inside, the CX-9 offers a beautiful interior that is built using quality materials and quality craftsmanship. The dashboard is not only ergonomic and nicely designed, but it also reflects the idea that the CX-9 is in essence a luxury vehicle given its level of equipment and features. These include multiple-zone climate control, a 5.8-inch central screen, Bluetooth, a navigation system, heated seats, a rear-view camera, leather seats, and a lot more.
Under the hood, the CX-9 gets a 3.7-liter V6 engine that offers 273 horsepower and 270 lb-ft of torque. Power delivery is fluid and overall impressive, and when we need to accelerate or pass, the CX-9 handles the task with conviction.
Come drive the Mazda CX-9 today at Atlantic Mazda!