May 29, 2015
2016 Mazda CX-3 : It's All About Enjoying the Moment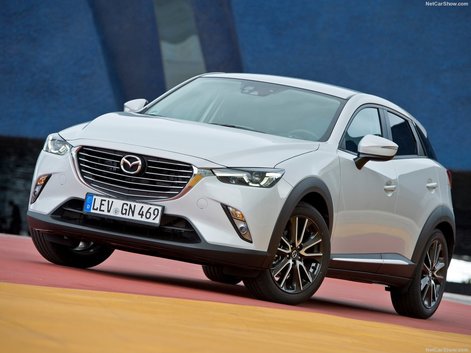 Mazda's new subcompact SUV joins a growing segment, but it has all the necessary tools to stand out without difficulty. Starting with Mazda's well-known SKYACTIV technology, the CX-3 adds a sleek exterior design and plenty of interior features wrapped in a well-executed cabin.
The idea behind the Mazda CX-3 is simple. It wants to be a vehicle that you can take from Moncton down to Halifax and then up to Cape Breton Island for a week and that will offer enough space to pack everything you need, yet be agile enough for you to feel like you are driving a car, and fuel-efficient enough so that you can still splurge on lobster when you get to your final destination.
The Mazda CX-3 2016 is the smallest SUV in the Mazda lineup. It sits below the CX-5 both in terms of dimensions as in terms of price. That said, it still offers plenty of interior storage space, including a vast trunk that is rather deep and capable of accommodating tall objects like a plant or small tree.
Inside the CX-3, you get a sporty cabin that is built using quality materials. What is really striking about the CX-3's interior is that it is rather simple, which makes it very easy to use on a daily basis, but the design has that German elegance to it that makes you feel like you are driving a vehicle that costs more than the $ 20,695 needed to purchase a Mazda CX-3.
Under the hood, you get a 2.0-liter four-cylinder engine that delivers 146 horsepower and 146 lb-ft of torque. Incorporating Mazda's SKYACTIV technology, the CX-3 boasts an impressive fuel economy, regardless of whether you choose the front-wheel drive model or the all-wheel drive model. Indeed, with FWD, the CX-3 averages 6.7 liters per 100 kilometers while the AWD model averages 7.3 liters per 100 kilometers. See what we mean by being able to travel this summer with a lot of stuff and not having to worry about the price of gas?
The only transmission offered is a six-speed automatic gearbox. There will be three versions of the CX-3. Like every other Mazda model almost, buyers can choose between GX, GS and GT trims.
With its affordable price, nifty design, great fuel economy, and sporty driving dynamics, the 2016 Mazda CX-3 has a lot to offer. Come drive one today at Atlantic Mazda!