December 24, 2015
2016 Mazda3: perfect daily driver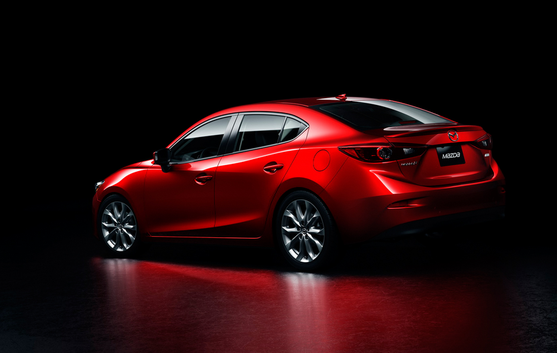 The Mazda3 has established itself as a popular, fun little sedan that drives as good as it looks. With a starting price tag below the $16,000 mark and plenty of appeal to go around, no wonder it was awarded the title of Best Buy in the compact cars segment named by the Car Guide and deserved a place in the top 10 best cars in 2015 according to Motor Trend.
2016 Mazda3: Drivers just want to have fun
The Mazda3 is what you may call a driver's car, one of those models that has not sacrificed driving pleasure in order to improve other things like comfort or fuel economy. The result is a more drive-centric experience on the road, despite the sedan not being the most powerful offering out there. The Mazda3 is offered with two powertrains. The base models come with a 2.0L, 4-cylinder engine rated at 155 hp and 151 lb-ft of torque. The top-of-the-line GT comes with its own 2.5L engine producing 184 hp and 185 lb-ft of torque for some added fun. Both powertrains come standard with a Skyactiv 6-speed manual transmission or with an optional 6-speed automatic. Thanks to the Skyactiv technology, the Mazda3's average fuel consumption hovers between 5.7L/100km and 6.4L on the highway, depending on the engine/transmission combination chosen.
It's cool to be on the back seat with the 2016 Mazda3
However driver-centric doesn't mean being entirely devoid of any sort of convenience that might please the other passengers. Both the sedan and the Sport hatchback version offer comfortable seating for five passengers, with a cargo volume that varies between 350L for the sedan and 572L in the hatchback behind the second row of seats. The Mazda3 also offers a selection of features and technologies such as dual zone climate controls, cruise control with wheel-mounted commands, push button start with remoteless entry, sunroof, leather, heated seats, rearview camera, navigation with vocal commands, HUD, 7-inch touchscreen display with Mazda Connect and Bluetooth compatibility, SMS text message functions, satellite radio, etc.
You don't receive the title of top safety pick + by magic, the engineering and the safety technologies available on board the Mazda3 are the reason it did so well in the collision tests. In terms of active safety features, the 3 packs aplenty, including whiplash reducing front headrests, blind spot monitor with rear cross traffic alert, lane departure warning system, smart city brake support and such.
All these features and a design that keeps evolving with the trends, help keep the sedan in the top sellers of the segment. This third generation of the sedan is better looking than ever. Come and see what the hype surrounding the 2016 Mazda3 is all about at Atlantic Mazda.