October 23, 2015
2016 Mazda3 - Soul in emotion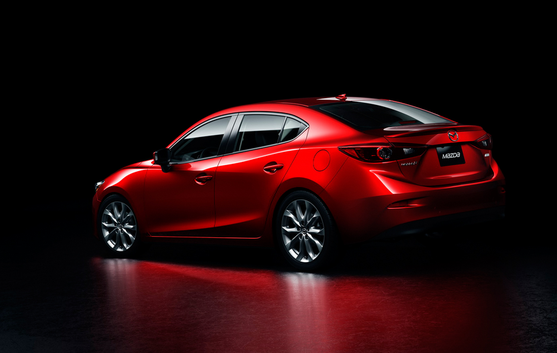 The redefined 2016 Mazda3
The Mazda3 was the third model of the family to receive the KODO - "Soul of motion" treatment. And what Mazda means with KODO is mostly the motion with more dynamic and sporty-looking vehicles than ever.
Their new design philosophy seems to have inspired Mazda a lot who not only came up with a great-looking family of cars, but who also did all their homework in terms of efficiency, safety and fun. This third generation of the Mazda3 has been around since 2013. Yes, it's been that long already, and we aren't quite tired of the look just yet, making the Mazda3 one of the most striking compact currently on the market whether you choose the sedan or the hatchback version.
Fun also seems to be the motto at Mazda's. Both in the driving ergonomics and in under the hood of the car, everything has been designed around the driver and his driving experience. For the 3, nothing less than a 2.0-liter engine is acceptable!
You can either opt for the 2.0-liter block rated at 155 hp and 150 lb-ft of torque or upgrade to the 2.5-liter engine that will power your car with 184 hp and 185 lb-ft of torque, and team your favorite powertrain to a 6-speed manual gearbox to an a 6-speed automatic one. And of course, who says Mazda3 also says SkyActiv technology that will get you an improved fuel economy rating, without cutting back on the fun. A dynamic stance and precise steering also contribute to making the 3 a fun, nimble car to drive.
Luxurious but affordable options for the 2016 Mazda3
Standard equipment on the entry-level Mazda3 include keyless access and push button start, power windows, a basic radio with audio display screen and USB outlet, a frugal list to match the less-than $16k price tag of the 3, making it one of the most affordable compacts on the market. A jump onto the higher scales will also get you features such as navigation, infotainment system with touchscreen, heated seats, air conditioning, wheel-mounted commands, cruise control and rearview camera.
The award-winning model is also recognized for its high ratings in terms of safety. It receives equipment that includes anti-theft alarm system, whiplash-reducing front seats, blind spot monitoring system, lane departure warning system and smart city brake support. Its active technologies and safety features got the Mazda3 the IIHS' Top Safety Pick+ title.
Visit Atlantic Mazda today to discover all the advantages of the SkyActiv technology, the driving emotion of KODO and receive the keys to one of the most elegant and exciting compact on the market.