July 26, 2016
A Few Changes Made to the 2016 Mazda CX-5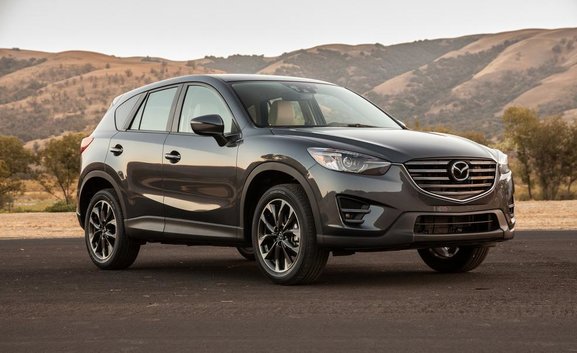 They are calling it the 2016.5 Mazda CX-5. It's not a complete redesign or even a refresh, but still Mazda has made a few tweaks to its popular compact SUV in order to make it even more desirable. The changes include engine availability and a few updated technological goodies.
More Power Across the Entire 2016 Mazda CX-5 Family
Perhaps the most significant change made to the 2016 Mazda CX-5 lineup is the addition of the SKYACTIV-G 2.5 L four-cylinder engine to the GX base model. The engine, the most powerful in the CX-5 lineup, was not available previously on the entry-level CX-5. Delivering 184 horsepower and 185 lb-ft of torque, the SKYACTIV engine also proves fuel-efficient with a combined fuel economy rating of 7.9 liters per 100 kilometers on the highway with all-wheel drive.
The standard SKYACTV-G 2.0-liter engine is also still available, and still delivers 155 horsepower and 150 lb-ft of torque. It can be paired with a six-speed manual transmission, and either front-wheel drive or all-wheel drive. This engine, although powerful, also happens to be fuel-efficient as well with an average fuel economy rating of 6.8 liters per 100 kilometers on the highway.
Other changes made to the 2016 Mazda CX-5 include an updated navigation system which is now even more precise and features advanced lane guidance, route recommendations, voice recognition and quite a bit more. The navigation system is standard on the GS model starting at $ 29,245. The 2016 Mazda CX-5 starts at $22,995.
Plenty of Interior Space and Features in the 2016 Mazda CX-5
The Mazda CX-5 features plenty of interior space with its 966 liters of cargo capacity with all the seats in place and 1,835 liters with all the seats folded down. Moreover, and this is where it truly shines, the CX-5 is a blast to drive, probably more so than any other compact SUV in its class. Putting driving pleasure and handling first, Mazda engineers designed a sport utility vehicle that is as fun to drive as a car, but that also happens to be spacious, fuel efficient and versatile.
On the road, the 2016 CX-5 is solid and handles with confidence. This is a vehicle that you can use to go to work every day in complete comfort, or take to the country and have fun on a twisty road. In other words, it does everything well.
To learn more about the 2016 Mazda CX-5, contact us today at Atlantic Mazda!