May 31, 2016
Introducing the all-new 2017 Mazda CX-9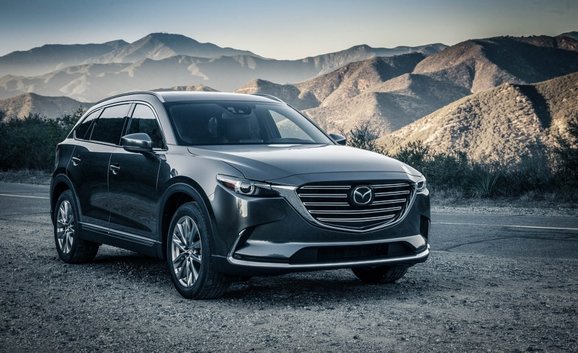 Mazda has been completely revamping its lineup in the last few years. Indeed, the Japanese manufacturer redesigned the Mazda3 and Mazda6 before introducing the new Mazda CX-5 and recently, the Mazda CX-3. Now Mazda is turning to the full-size SUV in its lineup, the 2017 Mazda CX-9.
A Lot of Luxury in the 2017 Mazda CX-9
Mazda vehicles are known for a lot of things. The driveability of its models, their fuel economy thanks to SKYACTIV technology, and their impressive design that follows the KODO Soul of Motion design ideology, among other things. Now, with the 2017 Mazda CX-9, Mazda is playing the luxury card. Indeed, in addition to the traditional GS and GT models, Mazda adds another variant to the CX-9 range, the Signature model. The latter is a true luxury sport utility vehicle offering Nappa leather seats, rosewood inlays, and an array of other equipment typically found on much more expensive models. Rosewood, for example, is a finish that is found in a Cadillac Escalade that sells for over $ 100,000.
A Fuel-Efficient Engine for the 2017 Mazda CX-9
All new Mazda models benefit from the SKYACTIV technology and the new Mazda CX-9 is no exception to the rule. It is interesting to note that the Mazda CX-9 is powered not by a V6 engine, but by a four-cylinder. We're talking about a four-cylinder, 2.5-liter turbo that produces 227 horsepower and 310 lb-ft of torque available at very low RPM. This allows it to tow up to 3,500 pounds while at the same time averaging a combined fuel consumption rating of 9.5 liters per 100 kilometers. To provide context, this represents the approximate average consumption of a sport utility vehicle with a hybrid engine.
Despite its size and versatility, the 2017 Mazda CX-9 remains true to the philosophy of Mazda vehicles. Indeed, on the road, the Mazda CX-9 is a blast to drive. Agile, it feels quite a bit lighter than its size might suggest at first. In short, to have fun in a sport utility vehicle designed primarily for the family, you can't really do better than the Mazda CX-9.
In addition to the equipment of the Signature version you will find in the new Mazda CX-9 elements such as heated and ventilated seats, navigation system, rear heated seats, sunroof, navigation system and more.
Discover the 2017 Mazda CX-9 today at Atlantic Mazda! For more information about this and other models, contact us today!