January 29, 2016
Mazda Connect : the simple life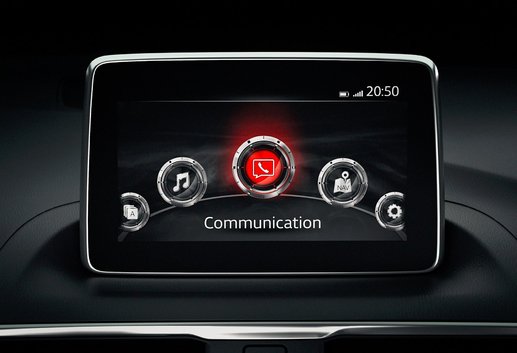 Mazda Connect will change your driving
Modern cars are now as much about connectivity as they are about fuel economy, safety, technology and performance. Buyers are more discerning than ever, and they want the latest and greatest features in their vehicle. Mazda having already locked down the performance and fuel economy aspects with their patented SKYACTIV technology, it set its sights on improving overall connectivity in each vehicle.
The result is Mazda Connect, Mazda's patented infotainment system that offers access to a host of features available on the vast majority of new Mazda vehicles. The system has been designed to improve ergonomics and, in simple terms, make it very easy for the owner to access various functions like Bluetooth, music and navigation, as well as the various apps offered by Mazda.
The Mazda Connect system is housed in a large center screen located above the center stack. Each function has its own sub-menu which makes it very easy to find exactly what you are looking for. Better yet, each submenu is lined up horizontally which means that it's easy to scroll across the various menus.
To navigate the menu, the owner uses a rotary knob positioned behind the transmission level and easily accessible. This knob is surrounded by different buttons including one that is used to select whatever function you desire, and another that allows you to go back, all the way to the home page. Because there are a lot of functions, new owners can get lost in the system and it's always nice to be able to go back to the beginning.
Those that know the system well will tell you that another great feature of the system is that the screen is not touch-based. That means that the screen remains clean even when used heavily. Also, the fact that everything is controlled by a knob and not a touch panel adds precision to the interface, making it that much easier to access various commands and areas of the infotainment system.
The position of the center screen is perfect for the vast majority of drivers, and the display is positioned in such a way that the driver does not need to look too far away from the road to see what is playing on the audio system, or the directions of the navigation system.
To learn more about Mazda's intuitive Mazda Connect infotainment system, please do not hesitate to contact us today at Atlantic Mazda!