March 29, 2016
Mazda Hits Hard with the 2017 MX-5 RF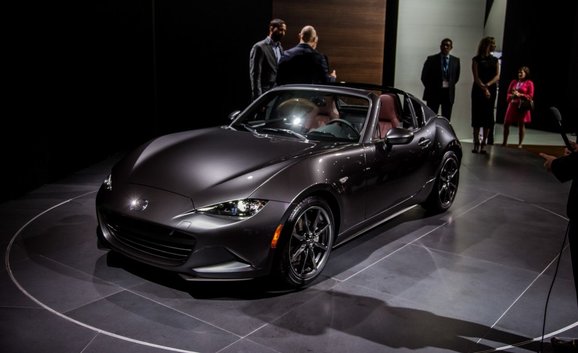 The Mazda MX-5 has a new variant, and this one is sure to get noticed even more than the current Mazda MX-5, if that is even possible. Dubbed the MX-5 RF, the new hardtop convertible Mazda reinvents the styling of the legendary Japanese roadster.
Since the fourth-generation soft-top Mazda MX-5 launched, we knew that a hardtop version would eventually be added to the MX-5 family. What we did not know, however, that that hardtop would in actuality be a model as unique as the new MX-5 RF .
The 2017 Mazda MX-5 RF has an attitude all its own
With sleek lines that go all the way to the back of the car, the new roof of the 2017 Mazda MX-5 RF gives the car a true fastback-type design. In fact, the RF label stands for "Retractable Fastback". That said, the MX-5, even in its RF configuration, remains a convertible with the portion of the roof above the cabin automatically storing itself behind the seats so as not to impede on available cargo space (130 liters)
If the soft-top version must be content with a manual opening system, the MX-5 RF has a fully automatic opening that can even operate as you are driving, so long as you do not go above 10 km/h.
Under the hood, the Mazda MX-5 RF retains the same mechanics as the soft-top model. The four-cylinder, 2.0-liter SKYACTIV engine developing 155 horsepower and 148 lb-ft of torque from Mazda is therefore necessary to power the RF model, and it can be combined with either a six-speed manual gearbox, or a six-speed automatic transmission.
The Mazda MX-5 is World Car of the Year
As we now sit and wait impatiently for the RF version, Mazda had more good news coming in New York as the current soft-top MX-5 won the prestigious title of World Car of the Year, beating the new Audi A4 as well as the Mercedes-Benz GLC. The title was awarded by a panel of journalists from around the world.
No doubt, the Mazda MX-5 is a dream. But with a starting price of $ 31,900, it's certainly not a dream that is out of reach. Visit us at Atlantic Mazda today, and enjoy the summer like never before driving a 2017 Mazda MX-5!