June 30, 2015
Mazda MX-5 2016: Just for Fun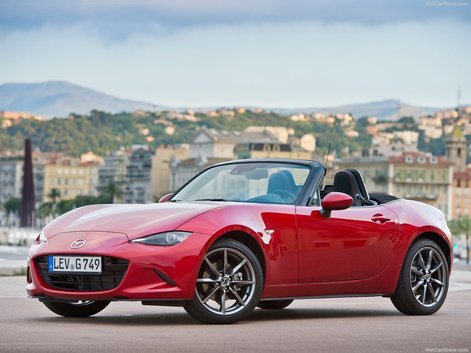 With the MX-5, Mazda offers what few manufacturers are able to develop: a reliable and relatively inexpensive car that also proves to be one of the most enjoyable vehicles to drive on the road. It's almost as if Mazda had decided to build a British roadster, but without the mechanical problems.
The all-new MX-5 is still compact and always dynamic, but it now has a range of technologies, including the entire Mazda SKYACTIV know-how, which ultimately ensures that we have the most successful MX-5 to this day.
Priced from $31,900, the 2016 Mazda MX-5 comes standard with air conditioning, Bluetooth, push-button start, and LED headlights. It is also possible to opt for the GS model, priced from $35,300 and offering 17-inch wheels, a limited slip differential, a Mazda Connect screen, and the navigation system. Then comes the GT model priced starting at $39,200 that offers leather seats, automatic climate control, and a wonderful BOSE audio system that includes 9 speakers. This model also comes with Mazda's i-Activesens technology, which includes a range of safety systems and collision prevention technologies such as adaptive cruise control, a lane-change monitoring system, blind spot monitoring, automatic braking, and more.
Under the completely redesigned and particularly stylish body of the MX-5, one finds a lighter SKYACTIV chassis that has dropped about 20 kilos. In reality, the Mazda MX-5 is lighter everywhere as the engine weighs 7 kilograms less and the transmission lost 6.5 kilos. This weight reduction makes the car even more enjoyable to drive on a winding road and more reactive, responding immediately to driver inputs. In all, the new MX-5 lost 55 kilos compared to the previous generation.
Under the hood, we find a four-cylinder, 2.0-liter engine that delivers 155 horsepower. This engine is less powerful than the one it replaces, but still performs better than the previous model thanks to the MX-5's diet. Owners also get improved fuel economy.
Still just as fun to drive, the new 2016 Mazda MX-5 is now even more enjoyable on a country road thanks to its lighter body and overall improvements. To drive with your significant other to the beaches of Nova Scotia or New Brunswick this summer, what could be better?