November 30, 2016
Mazda unveils the all-new 2017 Mazda CX-5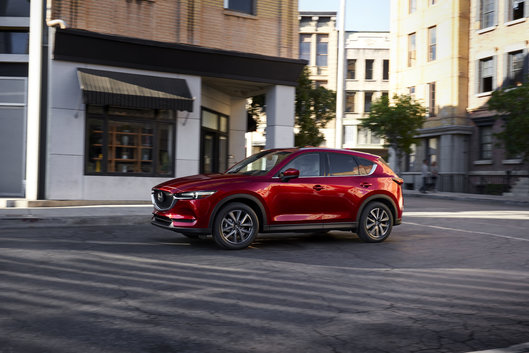 Mazda took advantage of the Los Angeles Auto Show which opened a few weeks ago to unveil its all-new 2017 Mazda CX-5, the latest generation of its popular compact SUV. The Mazda CX-5 benefits from several improvements, starting with a brand new diesel engine added to the CX-5's engine lineup.
A new diesel engine for the 2017 Mazda CX-5
The 2017 Mazda CX-5 has undergone several changes, but the most important is the addition of the 2.2-liter diesel SKYACTIV-D engine that will be available when the model arrives in Canada later in 2017.
We don't have too many details on this engine, apart from the fact that it is already available on other Mazda models in Europe and has therefore succeeded in proving itself in terms of its reliability and overall performance. Like all the SKYACTIV engines that came before it, the SKYACTIV-D diesel engine is also an example of fuel economy. We don't have any specifications yet, but they should come soon.
On the other hand, we know that the 2017 Mazda CX-5 will be equipped with Mazda's new G-Vectoring technology, the first technology in the SKYACTIV-VEHICLE DYNAMICS suite to be integrated into future Mazda products.
This technology is complex, but the end result is that by using the engine's torque, the G-Vectoring system is able to stabilize the vehicle both at low speed and at higher velocity. In doing so, the vehicle's movements are better controlled, and everyone is more comfortable inside. This technology is unique to Mazda, and it is truly effective.
Two more engines will be offered in the 2017 Mazda CX-5. These are the same engines that propel the compact SUV's current generation. Base models will be powered by the 2.0-liter, four-cylinder SKYACTIV-G engine developing 155 horsepower while a more powerful 2.5-liter SKYACTIV-G engine developing 184 horsepower will be offered in the GT models.
A more refined style for the 2017 Mazda CX-5
The 2017 Mazda CX-5 also receives some design changes like new headlights and a new grill that comes directly from the Mazda CX-9. The changes are subtle, but they are noticeable at first glance and on the whole, the new 2017 Mazda CX-5 is more refined than the model it replaces. The interior has also been improved.
To learn more about the new 2017 Mazda CX-5, contact us today at Atlantic Mazda!