August 29, 2016
Mazda6 2017: The Midsize Sedan Gets Some New Improvements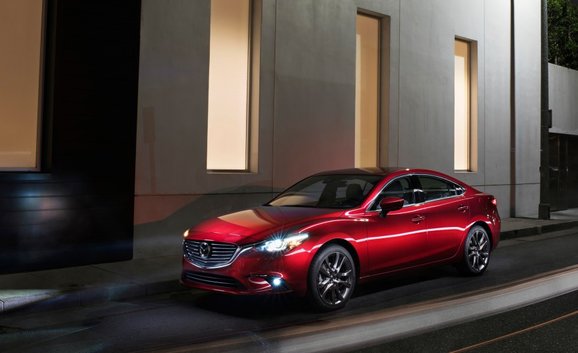 The midsize sedan segment is not an easy one for any automaker. Quite popular but crowded with quite a few high-quality models, automakers need to make sure that their offering stands out from the rest. Maybe not in every department, but in one aspect at the very least. That's exactly what Mazda has managed to do with the Mazda6 which was first introduced on the market in 2003 and that has been refreshed for the 2017 model year.
Driving Pleasure Always at the Top of the 2017 Mazda6's List of Qualities
The Mazda6 has been on the market for more than a decade, and since its launch there have been three generations of the popular midsize sedan. Although the Mazda6 has become more stylish, more technologically-advanced, and more efficient over the years, one thing has always remained true: the Mazda6 is a car for those who want to have fun behind the wheel.
The 2017 Mazda6 will stay very true to that philosophy thanks to the addition of a brand new system called G-Vectoring Control. The new system that will makes its way onto the 2017 Mazda3 as well is designed to improve both comfort and performance when taking a turn.
By designing a special software, Mazda engineers have in essence connected the steering wheel and the engine which can vary the amount of torque sent to the wheels based on steering input. In other words, the engine will modulate torque when the driver takes a turn in order to reduce the G-forces felt inside the cockpit. That means that you will not feel as much movement and you won't be shifting as much from side to side in your seat. Better yet, you don't feel the system working at all, you only realize after a while that you are not moving around so much.
More Improvements for the 2017 Mazda6
The 2017 Mazda6 gets the current 2.5-liter four-cylinder SKYACTIV engine that delivers 184 horsepower and 185 lb-ft of torque. There is only one engine in the 2017 Mazda6 lineup, but ultimately that's because buyers only need one engine in this case. The 2.5L unit is both powerful and very fuel-efficient with an average fuel economy rating of 5.9 liters per 100 kilometers on the highway and 8.5 liters per 100 kilometers in the city when paired with i-Eloop regenerative braking.
Other changes include the addition of a rearview camera to the base model, and the addition of a navigation system as well as a heated steering wheel and blind spot monitoring in the GS version. The latter also now offers Smart City Braking at no extra charge.
To learn more about the 2017 Mazda6, contact us today at Atlantic Mazda!
Pictures source: http://www.caranddriver.com/photo-gallery/2017-mazda-6-debuts-with-g-vectoring-control-more-luxury-official-photos-and-info#28