September 22, 2016
The 2017 Mazda3 is Coming to the Maritimes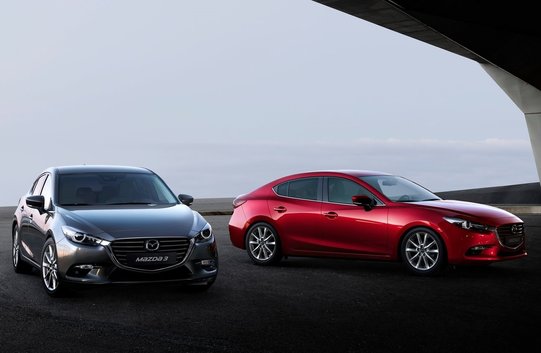 The 2017 Mazda3 is about to make its way to the Maritimes, bringing with it several new technological features as well as a refreshed design that keeps the Japanese compact up-to-date in terms of styling. That said, Mazda engineers made sure to preserve all the features that made the Mazda3 so popular since its arrival on the market in 2004.
The Same Engines for the 2017 Mazda3
The 2017 Mazda3 will be equipped with a standard SKYACTIV-G four-cylinder 2.0-liter engine that delivers 155 horsepower and 150 lb-ft of torque. This engine can be paired with a six-speed manual gearbox or a six-speed automatic transmission. The beauty of the 2017 Mazda3 is that regardless of the chosen gearbox, fuel consumption will be impressive.
We do not yet have all the specifications of the new Mazda3, but we know that the current Mazda3 has an average fuel consumption rating of 5.8 liters per 100 kilometers on the highway and 8.0 liters per 100 kilometers in the city with the six-speed manual gearbox, and 5.7 liters per 100 kilometers on the highway and 7.9 liters per 100 kilometers in the city with the automatic. The new 2017 Mazda3 should show substantially the same fuel economy numbers.
G-Vectoring Technology for the 2017 Mazda3
The biggest change in the 2017 Mazda3 concerns the same engines as described above, even if the power and the specifications of these engines have not changed. Rather, it is the G-Vectoring Control technology that is interesting here, a system within the new SKYACTIV-VEHICLE DYNAMICS suite of technologies.
The objective of G-Vectoring Control technology is to improve comfort, particularly when turning. By selectively applying engine torque, it is possible to reduce body movements and thereby side to side movements that are transmitted to the passengers.
Besides the G-Vectoring technology, the 2017 Mazda3 has also been refreshed visually which should allow it to continue to stand out in traffic. Mazda's compact sedan was already doing very well in that regard, and now it should do even better as the slight refresh ensures that it continues to stand out in the compact sedan segment.
If you are looking for a car that focuses on driving pleasure while also being economical at the pump, comfortable, and technologically advanced, then the 2017 Mazda3 should be your first choice. With its new features and impressive balance, the new Mazda3 has something for everyone.
To learn more about the 2017 Mazda3, contact us today at Atlantic Mazda!