February 03, 2015
Two new, very important models for Mazda are coming in 2015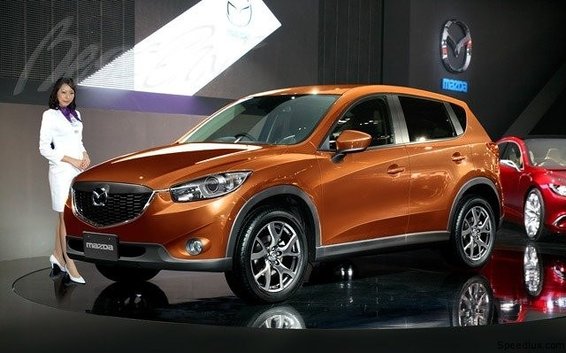 Mazda had a good year last year with increasing sales and plenty of praise from the press. That said, 2015 promises to be even better as the Japanese manufacturer is planning to unveil two new, very important models that are perfect for the Canadian market. Indeed, these new models offer plenty of space, strong fuel economy and a lot of fun behind the wheel, features that most buyers here at home are looking for.
These two new models should allow Mazda to continue to build on the momentum established when the Japanese manufacturer unveiled its SKYACTIV technology a few years ago. SKYACTIV is a host of improvements that make the vehicle more fuel efficient without sacrificing performance. SKYACTIV vehicles offer the responsiveness and driving dynamics we expect from Mazda, but with significant gains in fuel economy. Both models expected this year from Mazda feature SKYACTIV technology.
Mazda CX-3
Unveiled at the Los Angeles International Auto Show, the Mazda CX-3 is a small urban SUV set to sit below the new Mazda CX-5 in the automaker's lineup. The CX-3 is essentially a small sport utility vehicle that will appeal to buyers who are seeking the interior space of an SUV with the agility and fuel economy of a small car. It will join a rapidly expanding segment that is set to explode next year.
The 2016 Mazda CX-3 will be powered by a four-cylinder, 2.0 L engine that comes directly from the Mazda CX-5. We do not know yet the power that will be associated with this engine, but we do know that it will get a six-speed automatic transmission from the get go. Mazda has not indicated if a manual transmission would be offered, but we do know that front-wheel drive will be standard and AWD will be optional.
Mazda2
At the last Montreal International Auto Show, Mazda unveiled the new generation of the popular Mazda2. The manufacturer has indicated a desire to make the Mazda2 a subcompact car that will be able to appeal to consumers who want to have fun behind the wheel. Bigger, the Mazda2 will offer more space inside and a trunk that is wide and deep. Inside, a sporty interior awaits buyers who will also get seats offering plenty of lateral support.
Under the hood, a four-cylinder 1.5-liter engine will be offered. Equipped with SKYACTIV technology, it promises to be very efficient while being able to provide high-level performance. A six-speed manual transmission will be standard, while a six-speed automatic will be optional. The power will be sent to the front wheels while under the body style developed under the KODO visual philosophy, we find a light and rigid SKYACTIV chassis.
With these two new models and the imminent arrival of the Mazda MX-5, 2015 looks very promising for Mazda! Discover the range of 2015 Mazda vehicles at Atlantic Mazda today.