2014 Mazda CX-9 – Engaging, comfortable and space-efficient
July 14 2014, John Smith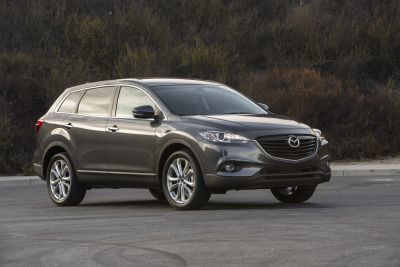 Several Mazda vehicles have recently experienced a redesign, and it would seem logical to assume that others are on the same path.
Until then however, models like the new 2014 Mazda CX-9 remain a compelling option. The vehicle is not only sharp and sporty-looking, but the roomy seven-passenger crossover SUV offers a space-efficient interior with comfortable seats, and as an added bonus, it's also fun to drive.
The 2014 model, which has a starting price of $33,995 MSRP, may be considered the perfect fit for consumers in need of a family vehicle that is also enjoyable to drive. It just so happens that the automaker's largest model in the lineup is "engineered to take on the incredible."
Buyers in the market for this type of vehicle can anticipate quite a bit of athleticism from Mazda's crossover SUV. The CX-9 will provide responsive steering, and a nimble feeling when driving it. It's also equipped with a powerful 3.7-litre V6 engine that will produce 273 horsepower and 270 lb-ft of torque. And although front-wheel drive may be standard, Mazda's "Active Torque-Split" all-wheel drive system is optional with the base GS trim, and standard on the GT model. The V6 engine is also mated to a 6-speed automatic transmission that includes SPORT mode - an added fun factor for the driver.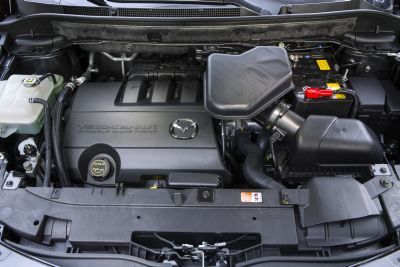 Stability and traction control are equipped on the 2014 CX-9 as well, along with roll-over stability control. A towing package is another feature that buyers can expect with Mazda's crossover SUV that includes a larger cooling fan and radiator.
As for the usual family necessities like space and comfort, the new CX-9 offers seating for seven-passengers due to a third-row bench. Both the second- and third-rows can of course be folded, the second with a 60/40-split and the third with a 50/50-split that will help to increase cargo space. In fact, the 487 litres of initial cargo volume jumps to a total of 2,851 litres when all seats are folded behind the first-row. This amount should satisfy the need for additional space, whether it is for groceries, to fit your son's drum kit, or for some of your Ikea purchases.
In terms of comfort, heated front seats are standard on both the GS and GT models, and a power adjustable front passenger's seat is available with the Luxury Package on the base trim. Three-zone climate control is also included. Other features like the glass moonroof, the rear back-up sensors, and navigation system are either available with a package and/or standard on the top GT trim.
A rearview camera, steering wheel-mounted audio controls, and Bluetooth are features that come standard, while the 10-speaker audio system and surround sound system, in addition to satellite radio, are features you can enjoy when opting for the GT model.
Overall, the 2014 Mazda CX-9 is a good-looking SUV that will provide buyers with comfortable seating, and enough space for seven people. For those that yearn for a vehicle that is also fun to drive, the CX-9 should be on your radar.
See for yourself just how enjoyable the 2014 Mazda CX-9 is to drive by booking a test drive with your Atlantic Mazda dealer.