SKYACTIV technology explained: it will get you further this summer
June 02 2014, John Smith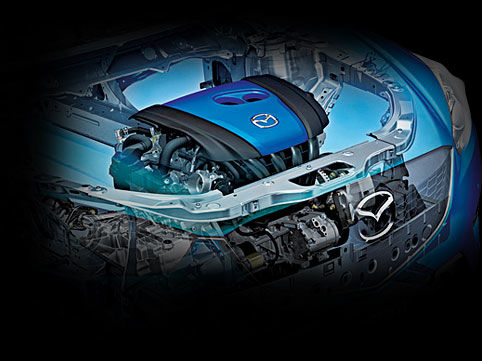 SKYACTIV was first showcased in 2012 when it was announced that it would be exclusive on some models. Today, SKYACTIV is standard on every single Mazda CX-5, Mazda6 and Mazda3 vehicles.
It took a while, but summer has finally arrived. Along with sunny days and longer evenings, summer also means that pretty soon, we will have a bit of time off to take a well-deserved vacation. Although some may be heading to the airport, others will hop in their vehicle and head to the coast for a little ocean fun, or simply drive around Atlantic Canada, discovering everything our beautiful region has to offer.
Whether we are heading to Cape Breton island, or driving along the Cabot trail, we all want to take that summer road trip in a car that is fun to drive but also fuel-efficient. After all, we do not want our car to become a huge factor in the cost of our vacation. And if we are travailing with family, as many of us will, we also want a vehicle that is spacious and practical. The good news is that Mazda has you covered this summer with a range of vehicles that are versatile, always fun to drive, and now with the arrival of SKYACTIV, particularly fuel-efficient.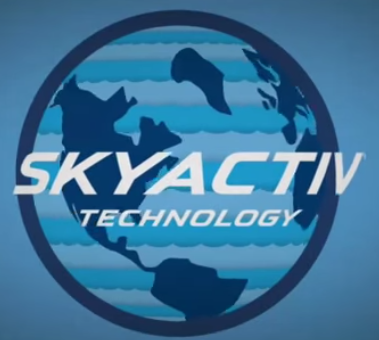 SKYACTIV is a term that has been thrown around a lot in recent years. It was first showcased in 2012 when it was announced that it would be exclusive on the new Mazda CX-5, and offered on one model in the Mazda 3 range. Today, SKYACTIV is standard on every single Mazda CX-5, Mazda6 and Mazda3 vehicles, and expect to see it on other new Mazda models coming in the next few months and years.
But what exactly is SKYACTIV? If you read Mazda's detailed explanations, it is easy to get lost in the techy lingo and engineering terminology, but in actuality, SKYACTIV is much easier to understand than say, hybrid technology for example.
That's because at its core, SKYACTIV uses mechanical components that we all know such as traditional combustion engines, 6-speed manual and automatic transmissions, and chassis. There are no electric engines or quirky CVT transmissions, and the materials used in the creation of the chassis are advanced, but not exotic. No expensive carbon fiber or aluminium here.
In essence, the goal behind SKYACTIV technology was to improve the elements that make a car move forward. Mazda has always been known for offering vehicles that are fun to drive, dynamic, and generally sportier than their rivals. However, previous models were not known for their fuel economy. So, Mazda went back to the drawing board to see how they could improve fuel efficiency without taking anything away from the driving experience.
They looked at how they could improve their engines, transmissions and chassis. Two main elements were inspected and improved: weight and efficiency. The heavier the engine, chassis and transmission are, the more fuel will be required. So, by reducing weight, you can achieve the more performance for every drop of fuel used. By improving efficiency, which means for example reducing internal friction of the various mechanical components and allowing air to move more freely inside the engine, you reduce the amount of fuel that is wasted.
In essence, Mazda looked at how it could take run-of-the-mill engines, transmissions, as well as the chassis, and make everything work better. SKYACTIV did not reinvent the wheel, it simply made sure it was rounder.
Engine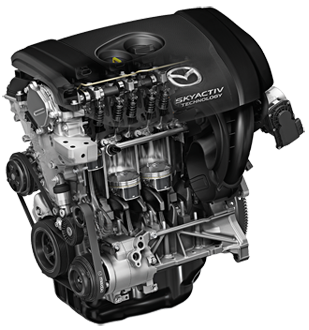 The SKYACTIV-G engine, offered as a 2.0 L or 2.5 L in the Mazda CX-5 and Mazda 3, and only as a 2.5 L in the Mazda 6, offers lower internal friction and a high compression ratio of 14.0:1. By increasing the compression ratio of the engine, Mazda achieves higher thermal efficiency. In everyday terms, that means that the engine requires less fuel to reach a certain level of performance. Moreover, a redesigned exhaust system allows air to flow more freely through the engine and out of the vehicle, again improving efficiency.
Transmissions
Mazda offers both a 6-speed manual and a 6-speed automatic. The latter takes the best features of both a CVT transmission (fuel economy) and a dual-clutch setup (performance) and packages it into a transmission that feels normal. You will not notice that there is something unique and different about the automatic in everyday driving situations.
The 6-speed manual is more compact and lighter than a traditional manual gearbox. That helps improve shifting motions and makes the car simply more fun to drive, while the fact that it takes up less space and weighs less improves fuel economy. Behind the wheel, the driver will notice how quick and crisp the manual transmission actually is, giving every vehicle it is included in a sportier personality.
Chassis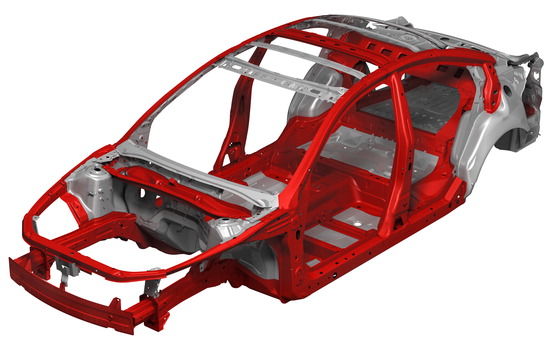 The chassis is the structure on which the car is built. It plays an important role in preserving the safety of the vehicle's occupants as well as in determining how the car drives. It is also one of the largest components of a given vehicle, and therefore its weight is an important consideration.
By using new materials that are both more rigid and lighter, Mazda was able to ensure the safety of everyone inside the car while reducing overall weight. The fact that the chassis uses rigid materials means that the car will remain solid on a winding road while also being more resistant in the event of a collision. And if you achieve all of this while making sure the chassis is lighter, than you get a vehicle that is also more fuel-efficient.
Conclusion
As you can see, Mazda's SKYACTIV technology takes the basic component of a car, and quite simply improves them. You therefore get a model that is more fun to drive and more fuel-efficient, but that is also easy to service and reliable.
That makes any new Mazda vehicle equipped with SKYACTIV technology your perfect partner for you next summer road trip across our beautiful region. Come in to Atlantic Mazda today and let us show you just how SKYACTIV works, and why it should be considered!