The 2017 Mazda3 brings driving pleasure to a whole new level
February 27 2017,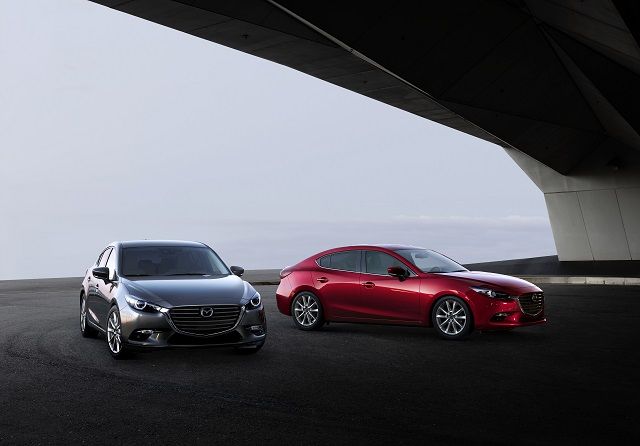 It is well known, the Mazda3 is built for those who love to drive. That's even more true with the brand new 2017 Mazda3. Completely redesigned this year, the new Mazda3 offers more technology, a striking and improved design, a better driving behavior both on a twisty road and on the highway, and an even more refined interior, all at a price that is lower than last year.
No question about it, the 2017 Mazda3 is the best Mazda3 to hit the market since the model launched 13 years ago.
The 2017 Mazda3 is more intuitive than ever thanks to G-Vectoring Control
However, the biggest change made to the 2017 Mazda3 is not visible from the outside. Indeed, the new Mazda3 is now equipped with a new system called control G-Vectoring Control, or GVC. Part of Mazda's new SKYACTIV DYNAMICS CONTROL, G-Vectoring Control is a revolutionary technology that makes driving the Mazda3 a much more engaging, and comfortable, experience.
This electronic system allows the new Mazda3 to subtly adjust the engine's torque, thus optimizing the weight distribution of the vehicle and improving its steering.
As a result, the 2017 Mazda3 provides a more stable and smoother ride than ever before. In more precise terms, you don't feel the weight shifting around as much in the new Mazda3 as in other compact vehicles, and on the highway the steering wheel requires less corrections to maintain a direct line. Overall, the car is more comfortable and more fun to drive.
There is a 2017 Mazda for everyone
For 2017, the Mazda3 is still available in four- or five-door versions. At Atlantic Mazda, the Mazda3 four-door is priced from $ 15,900 while the hatchback is yours for $ 19 950.
GX and GS models are powered by a four-cylinder SKYACTIV-G 2.0-liter engine that delivers 155 horsepower and 150 pound-feet of torque to the front wheels. Its average fuel consumption rating of 8.5 L/100 km in the city and 6.2 L/100 km is one of the best in its class.
And for performance enthusiasts, the Mazda3 GT is available with a more powerful 2.5-liter engine that offers 184 horsepower and 185 lb.-ft. of torque.
Regardless of the version and engine, a six-speed manual transmission is standard, while an optional six-speed automatic transmission is optional.
To learn more about the 2017 Mazda3, contact us today at Atlantic Mazda!